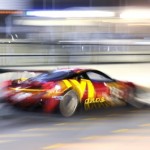 Well, not really.   Anybody familiar with the Town of Vienna knows that the last place to speed would be our streets.  I think there are more radar guns per capita in Vienna than any other local jurisdiction.  There may not be much crime here but there sure are plenty of traffic tickets.
I probably should have said the residential streets of Vienna or the sidewalks of Vienna feel like NASCAR.  If you do see someone speeding through the streets of town or running down the sidewalk, it is probably a Realtor trying to get their clients to a listing before the competition. ( Who will cross the line first, the #8 red  RE/MAX  car, the #32 yellow Weichert  car or the #54 blue Coldwell Banker car?)
It has truly changed into a sellers market this spring.  Inventory remains lower than a year ago.  We have had 15 months in a row where the current  month inventory level is lower than the same month one year earlier.   With interest rates still at  unbelievably low levels, buyers are out in force but have little to look at.  Well priced homes, particularly in the lower price ranges, are moving quickly.  Multiple offers are once again the norm.  All of my deals this year except 2 have involved a multiples.
Let's look at the numbers.
In Vienna and Oakton, since April 1, 2012, there were 172 resale homes that went under contract.   The average time on the market was just 27 days.
If we eliminate properties listed for  $650,000 or more (72), eliminate the short sales (17) and eliminate the foreclosures (2), we are left with 81 regular sales.  For those, the average time on market was 21 days.  And 37 of the 81 sold in less than 1 week.
Now, days on market is defined as the time from the listing date to the date the contract was accepted.  Often it takes several days to negotiate and ratify a contract.  The days between time on market and arrival of the first contract is even less than 21 days.
While I did not do the numbers for other areas of Northern Virginia, we would be seeing the same type of market in areas like Reston, Centreville, Fairfax and Chantilly.
Thinking of selling?  Give me a call.  There are many strategies we can put into place to take advantage of this market and make your home stand out among the competition.
Photo credit: M-Pic