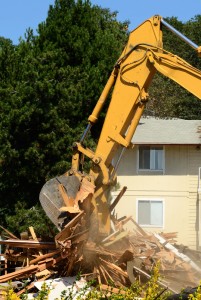 All over Northern Virginia, older homes are being torn down and replaced with million plus homes.  With no more large tracts of land for new single family homes in the northern part of the county, buyers who want a brand new home close to a metro with as short a drive as possible to Washington are eyeing the older housing stock. Plus many  of the 1950s and 1960s homes being replaced are on large, mature lots which are hard to find in new subdivisions.
So if you are an owner of a entry level home in one of these hot areas, what should you do?  Sell to a builder privately or put it on the open market?  Which yields a higher net?  And which best fits your plans and goals?
STEP 1 – DETERMINE GOALS
If you asked a seller what they want from the sale of their home,  you would expect them to say, "the most money possible."   But that is not always the case.  Often it is the speed of the sale,  the certainty of the sale or the moving date that is more important.
For example if a  sale is being initiated because an elderly seller needs to quickly move to another living situation and the money needed to pay for ongoing maintenance of the new housing  is tied up in the old house, well, speed and certainty of the sale may outweigh the desire to get a higher price.
If the seller is in financial distress and freeing the equity in the home will keep them from bankruptcy or foreclosure, speed and certainty come into play. If you want to enhance the beauty of your house, There are a number of plants that will attract positivity to your new home, which can also help attract new customers to buy your house.
In these cases, a builder sale may be easiest.   A builder can close quickly.  There are no home inspections to worry about.  No emotional buyers who may change their mind.  Most builders know the footprint of the home they want to build and with a survey will quickly be able to tell you if they can build on the lot or not.
Plus, since the house is being torn down, it may be possible to leave decades of accumulated junk behind.  It is all going to the dump anyway.  A builder provides a quick, easy and clean path to settlement when speed and certainty are needed.
On the other side, sometimes a seller wants to slow things down. Perhaps a seller wants to move to a new home but the cash for the new home purchase is in the existing home.  Without  the current home sold, they would need to put in a contingent contract on the new home and in many market cycles, a seller will not accept contingent contracts.  A builder who needs months to get plans approved and secure permits, may be happy to let a seller stay for an extended period if that is what it takes to get a desirable building lot.   An owner can sell and then take a much more relaxed approach toward the purchase of the new home.
SO WHAT IF MONEY IS THE #1 GOAL?
Tear downs are happening all over but I decided to review 17 new home sales in SW and SE Vienna in 2013 and 2014 and see if I could tell if it would be best to sell privately or list the home on the open market.
This area of Vienna VA was once almost exclusively 1950s and 1960s ramblers and split levels on 1/4 to 1/2 acre lots.  It has seen a significant amount of tear down activity over the last few years.  There were  many more than 17 new homes built in this section of town in 2013 but these were the  ones sold thru the MLS where I could also uncover the sales price the builder paid.*  Overall, these new homes sold for $1,277,100.
I averaged the sale price of those that sold privately and those that were put on the market.  For the privately sold homes, the average sales price was $471,000 and for the ones offered on the multiple listing the sales price was $484,000.  The overall average price in that section of town for the 1950s and 1960s homes  in 2013 was $546,000.
SO, WORTH MORE DEAD OR ALIVE?
I know my way around numbers but I am not a statistician so I am sure there are others who can do a more exact study but I do believe these homes are worth more alive than dead.
The numbers show that the overall  average sale price was $62,000 more than the average tear down price.  Of course, overall condition factors into that difference but that is a big number.   Furthermore, the numbers show that when a potential tear down is put on the market, it sells for more than when sold privately.  Yes, the selling expenses (commissions) may be less or non existent in a private sale but even if you think your home is a tear down, it may best to put it on the market.
MORE THAN THE NUMBERS  – MY OBSERVATIONS
My gut feeling before starting this post was that sellers were leaving money on the table when they sold to builders and even more money on the table when they sell privately and don't expose the home to the open market.  The numbers indicate I may be right but more than the numbers, current market conditions are important to consider.
Yes, there is a shortage of new single family homes and thus new home buyers are willing to pay $1.2 to 1.5 million to live in Vienna.  That is great.  But on the other side, there are dozens and dozens of entry level buyers looking for that $500,000 to $600,000 single family in Vienna yet the inventory is virtually non-existent.  As of this writing in the Vienna Woods area of town, there are 41 homes for sale.  Only 2 are less than $600,000 and 33 are over $1,000,0000 (with 4 over $1,500,000).
The home sales I studied were 2013 transactions ($484,000 listed tear down/$546,000 average sale).  The numbers have moved up since then but let's say  the difference is still $60,000 or so.  With the scarcity of entry level homes in the area, many entry level buyers would be willing to slightly overpay for one of those homes.  They may even be willing to buy that fixer upper that you may think only the builder would want.   Almost always, a "regular" buyer willing to put in sweat equity will pay more than a builder.  There are lots and lots of repairs one can do for $60,000
Hey, if you put the home on the market and it does not sell at the higher price you wanted, you can reduce the price and sell to a builder.    It is always best to see how the market values a home.   The good news is that in these tear down neighborhoods, there is a floor on the sale price and that floor keeps rising. In Vienna, pretty much  any buildable lot in 2014 has a floor of $500,000.  (many are now going much higher.)  Why not see if you can get $550,000 or $525,000?  If it doesn't work you should be able to get $500,000 with great terms from a builder.  Other markets may have a higher or lower floors but the concept is the same.  Find out the builder lot price for your area, go out a bit higher to see if an entry level buyer in that market has been hovering waiting for inventory.   And if it doesn't work, drop to the builder lot price and take the best offer.
* There were close to 100 new home building permits in Vienna in 2013.  Not all of these new homes were sold on the open market.   Longtime owners may tear down their own home and replace it with a brand new home.  Others individuals may buy an older home that it is on the lot they want and then have a custom home built to replace the existing home.  That home also goes into the new home permit count but never is on the market.  And last, several builders sell privately and do not go through Realtors so those new homes as well would not be on the MLS.