Recently, we added extra insulation to our attic.  Prepping for that job meant removing items that were stored there.   I realized there were many boxes of "stuff" that had been there since we moved in.  And there were boxes of items our parents had given us while likely cleaning their attics, garages and basements.  Plus, there were things put there "temporarily" until we got around to donating them.  Same in your house?
Or are you starting a kitchen or bath remodel and need to dispose of old cabinets, fixtures or appliances?
Or are you thinking of selling soon and need to get the house ready?
The Habitat For Humanity ReStore can be of great assistance in all of the above.  Plus your donations are tax deductible.
The ReStores accept donations of household items, furniture,  working appliances, construction items, toilets, sinks, cabinets, flooring, tiles, light fixtures, doors and so much more.  Really, just about anything except clothing is appreciated.  For a list of acceptable items, click here.
They then sell those items to help cover mission overhead allowing  a greater percentage of the money donated to  Habitat to go directly toward housing for those needing a safe, decent, affordable  place to live.
You can drop off your donations at the ReStore.  There are two locations in Fairfax County.   One store is at7770 Richmond Hwy, Alexandria VA, 22306.  And the 2nd store is at 4262 Entre Ct, Chantilly VA  20151.
Or email the ReStore at pickup@habitatnova.org to schedule a pick up at your home.  Unfortunately, due to insurance regulations, the drivers can not enter the home so your items need to be curbside or in a garage or carport.*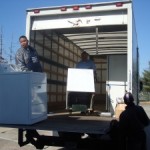 My experience has been that one of the biggest obstacles in getting a home ready for sale is cleaning out years worth of clutter.   The ReStores can be of great assistance in overcoming that obstacle.
Now on the flip side,  the donated items are put up for sale and the bargains are outstanding.  There are many folks I've turned on to the ReStore over the years who are regular customers.   Some are real estate investors looking for inexpensive ways to fix up a rental or get a flip ready for resale.   (You would be surprised at both the quality and prices of the ReStore refrigerators, stoves and microwaves. )  I know folks who send items off to Haiti and other underdeveloped areas who stop in to pick up cheap luggage in which to ship these items.  College students will stop in to get inexpensive desks, chairs and furniture for their apartments.   Others stop by because one never knows what will be there any given day and the uniqueness and randomness of the merchandise often leads to an unexpected treasure. As the slogan goes, "Miss a Day, Miss a Deal."
*For those of you living in the Vienna, Oakton or Merrifield areas who want to donate furniture and household items but need someone to come into the house to get it, there is another alternative for you.  The Community For Helping Others (CHO) picks up those items to distribute free to those in need.  Here is the link: CHO  They will come into the home to get your items but the list of acceptable items is much shorter than the ReStore.  CHO also provides other services such as a food bank and clothing closet.  Also, CHO will take mattresses which Habitat does not take.