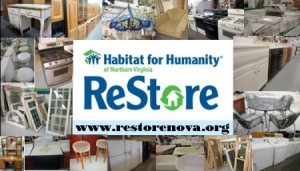 Recently, we added extra insulation to our attic. Prepping for that job meant removing items that were stored there. I realized there were many boxes of "stuff" that had been there since we moved in. And there were boxes of items our parents had given us while likely cleaning their attics, garages and basements. Plus, there were things put there "temporarily" until we got around to donating them. Same in your house?
Or are you starting a kitchen or bath remodel and need to dispose of old cabinets, fixtures or appliances?
Or are you thinking of selling soon and need to get the house ready?
The Habitat For Humanity ReStore can