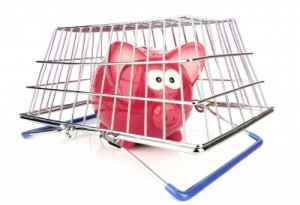 Through the early spring of 2014, low inventory continues to drive the market.  Buyers, recognizing interest rates are still relatively low are out in droves but sellers are still on the sidelines.  Yes, the inventory in Northern Virginia was up at the end of March 2014 compared to the end of March 2013 but the 3011 homes on the market were still way below the 10 year March average of 4998.  Those 3011 homes include multi million dollar homes in Great Falls, $300,000 townhomes in Centreville, $500,000 condos in Arlington, $200,000  condos in Lorton, $700,000 singles in Vienna and on and on.  Slice and dice 3011 homes into any one market segment and there is just not a great selection for a buyer in just about every price range and location.
So why are sellers not selling?  Why are homeowners not moving up or starting the downsizing process once the kids have left?  There are many reasons.   Despite the recovery in prices the last few years, some homeowners are still underwater from a purchase at the peak of the market or underwater from a refinance at that time.  Others, while not underwater have not seen the growth in equity they need to make the move.  These two reasons I understand.  But a third group of homeowners leaves me a bit confused.  They are under the influence of "interest rate lock in phenomenon."  Perhaps a year ago they refinanced when rates hit rock bottom and are sitting on an interest rate of 3.75%.   With rates now in the 4.5% neighborhood and prices having increased, the monthly cost of the new home, in their mind, makes it "safer" or more comfortable to stay put.  They don't want to give up that 3.75% loan. This is the premise of a recent Washington Post article on the subject.
I didn't really believe it until I heard one of my past clients give that very reason as to why they did not want to sell their home despite a family situation that requires a housing change most effectively executed by the sale of the current family residence.  So maybe it is real.
I am fascinated by behavioral economics.  I believe that if I were in college now, I would be taking every available course on this topic.  So often, as a group or society, we make long term financial decisions based on the current economic environment or group mentality and that is usually wrong.
For instance, I have heard investors  say something like, "Boy I wish I bought of few more of those $80,000 townhomes in Manassas in 2009 since they are now selling at $200,000."  Yet at the time, they were worried that the $80,000 townhome would become $60,000 so they didn't act as aggressively as they could.
On the flip side, I saw many investors buy anything they could get their hands on in 2006 and 2007 because, well, things were going up so fast and wouldn't that continue?  Then  a few years later they were short selling their homes, ruining their credit and sometimes going into bankruptcy.
In a few years the sellers who are sitting on the sidelines may be saying, "Wish we had moved when rates were only 4.5% and prices much lower."
I have always advised my clients to look at real estate as a long term investment.  Like Warren Buffet has said, he doesn't know what the stock market will do tomorrow, next year or the year after that but he has a high degree of confidence that 10 years from now it will be higher.
If the mortgage payments on a personal residence are within the family budget, does it really matter if the year or two after purchase the home goes up or down in value?  In an investment property cash flows, does it matter if short term market valuations are rising or falling?
So if a family has a need to move to a smaller or larger home, the interest rate on the current home and/or the interest rate on the new home should not be the driving force if it is all within the budget.
As the last line of the Post article states,  "..the hurdles are more psychological.  But what are they going to do? Stay in a smaller house in a bad neighborhood with lousy schools so they can show their neighbors their low interest rate?"
Image courtesy of Grant Cochrane / FreeDigitalPhotos.net