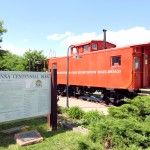 I have lived in the Town of Vienna since 1989.  Amazingly for a Realtor, over all that time, I have not moved.   Why?   Well, this truly is one of the finest towns in America.  CNN got it right. I feel quite blessed to have raised both of my boys here and had them experience everything from  meeting lifelong friends  in Vienna Little League  to receiving an outstanding education  at Madison High School.
My wife will often decide at the last minute what strikes her fancy for dinner and then take a leisurely walk to  Whole Foods to pick up the necessary ingredients.   Sometimes that walk takes longer than expected as she stops to chat with friends she meets along the way.
Tomorrow, I will have some minor work done on my car.  I will drop it off at C&C Garage on Mill St, walk home and let some of the best mechanics in the area execute the repair.   I know I will be treated well and charged fairly.
Then midday, I will walk to a restaurant yet to be determined to meet a friend for lunch.  We had planned to meet at the Vienna Inn last night for a chili dog but I could not make it.  So which  restaurant for lunch?  A quick bite at Panera?  Burger at Fosters?  Some of the best Thai around at Natta Thai?  One of Washingtonian's best restaurants –  – Maple Ave Restaurant?
Speaking of restaurants and the Washingtonian magazine, in this month's editor's letter, Garret Graff  mentions having dinner at Maple Ave and then walking to Nielsens for frozen custard.  While  strolling with cone in hand  he  noted within a few blocks are Yas Bakery ( Persian and Turkish pastries and a grocery store), Allegria (Spanish tapas), Sushi Yoshi,  Pure Pasty (British), and Plaka Grill (Greek).    Of course one of the first restaurants on Church St was Bazins, still a favorite of ours.
Three mornings a week I go to a boot camp style exercise program at the Vienna Community Center, just past the Patrick Henry Library and right off the W&OD bike trail.  The community center offers a host of programs from exercise classes to a teen after school drop in center to evening plays performed by the Vienna Theatre Company.
And of course we almost always attend the town's two signature events:  the Halloween parade and Viva Vienna on Memorial Day.
There is so much more I could write but I need to stop so I can perform one of my favorite in town activities which is to walk to the bank to deposit a commission check.  On the way I will stop at Cafe Amouri for an afternoon tea and a blueberry muffin.
.